Best of BC.Game
Supports 60+ cryptocurrencies
Withdrawals and deposits are instant
It provides a wide selection of games
Offers provably fair games
Best Crypto Casino.Biggest crypto crash game. Provably fair & Live dealer. 10000 slot games.Unique bonus & free lucky spins. BTC, ETH, DOGE, TRX, XRP, UNI, defi tokens supported fast withdrawals and Profitable vault.
This comprehensive review of BC.Game for 2023 delves into detailed research and hands-on interaction with the site. The following account includes an exploration of its features, advantages, disadvantages, and a myriad of screenshots. Crucially, it delivers an impartial verdict on BC.Game. Feel free to navigate straight to sections of interest. Let's delve in!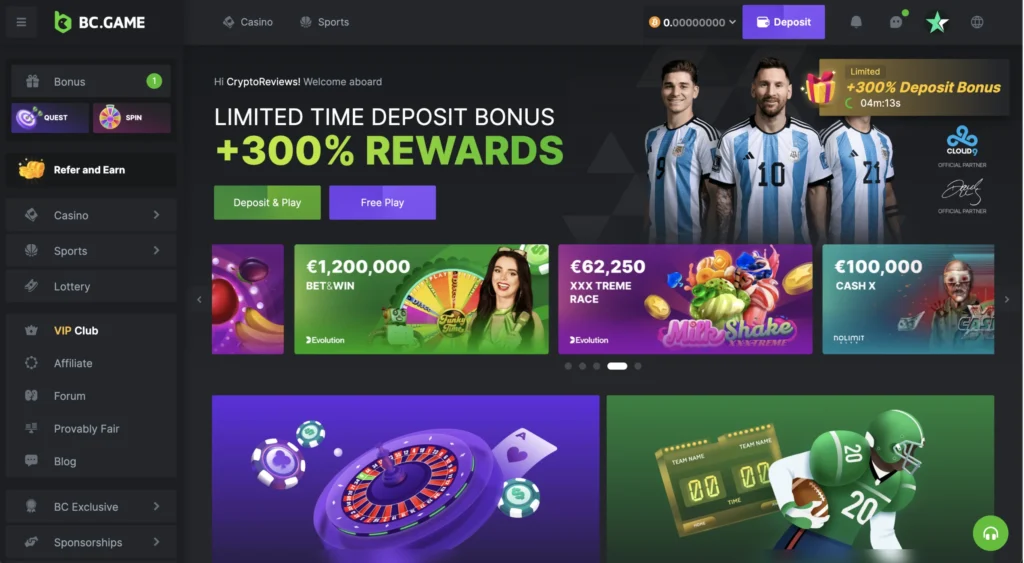 Key Insights
In case you're short on time, here's a brief summary of the BC.Game review, which should prove beneficial.
Pros of BC.Game:

It provides an exchange for converting your altcoins into BTC, ETH, or DOGE, enabling gameplay with virtually any cryptocurrency
Each game displays the house edge, providing a strategic edge
A VIP leveling system brings massive rewards – you could earn free vacations with other gamblers as you level up
Open-source code and provably fair games are used by BC.Game. The code and blockchain can be examined to assure the security of your games
Cons of BC.Game:

The Lucky spin isn't provably fair, but since there's no monetary loss, you can still try your luck at the 1 BTC daily
Freeplay or use of JB coins for live casino games isn't permitted. Make sure to familiarize yourself with the game before you play
Purchasing crypto directly from their site isn't possible. However, depositing dozens of cryptos is an option
Background information
Founded in:
2017
Operated by:
Media Games Malta (EU) Limited
License(s):
Curaçao
Supported Cryptocurrencies:
BTC, ETH, BNB, XRP, DOGE, USDT, DOT, BCH, LTC, BCD, TRX, LINK, XLM, USDC, EOS, DAI, AAVE, YFI, UNI, AMPL, SHIB, AMP, TRTL, AXS, XMR, BSV, KSM, CRO, SUSHI, WBTC, SNX, MANA, BAT, ENJ, CRV, JST, BTT, CAKE, TWT, VNDC, VSYS, EURS, AVC, NBX, DASH, BAN, SUN-OLD, SUN, SATS, JB, BTCB, ALGO, NANO, NEXO, DGB, ICX, WBNB, XTZ, GST, ROSE, WAXP, BBGC, VTHO, MATIC, IOTX, NEAR, FTM, ONE, SOL, ETC, CELO, TOMO, ADA, PAR, VET, RVN, WAVES, SAND, DCR, TUSD, EGLD, QTUM, GALA, APE, HEX, BUSD, ZIL, GMT, JPEG, MAGIC, SAMO, SNACK, fUSDT, DOG, GODS, NFT, BIT, YGG, BCL, BCT, USTC, LUNC, WCK, PEOPLE
Available Languages:
English, Spanish, Russian, French, German, Chinese, Japanese, Indonesian, Vietnamese, Korean
✅ Fully crypto-based with the possibility of anonymous gambling.
Reputation
License for BC.Game
Despite other reviews suggesting otherwise, BC.Game holds a license from the Malta Gaming Authority. This allows for both business to customer and business to business operations. While the platform doesn't have a standard casino gaming license, it is still legitimate, so there's no need to worry about BC.Game engaging in fraud.
Security Measures
In the context of security, BC.Game is indeed legitimate. The platform promptly prompts users to set up 2-factor authentication after account creation.
BC.Game fully encrypts its servers and backups. Only those with VPN access can reach these servers.
Background of Owners
Despite thorough investigation, no information about the owner of Media Games Malta (EU) Limited could be found. Although this isn't necessarily a red flag, having insight into the owners or their experience with running a casino could be beneficial.
Feedback Received
Some negative feedback points out that the games seem to be fair only when betting small amounts. Other complaints involve players frequently receiving JB coins on the free spin and a toxic chat environment with players continually begging for free BC.Game casino codes.
However, these two grievances don't affect the actual gambling experience. TrustPilot gives BC.Game a rating of 3 out of 5 stars, with the aforementioned issues mentioned in 1-star reviews.
On a positive note, they've responded to numerous reviews on TrustPilot, demonstrating that they value their community. BC.Game is also proactive in responding to complaints on their own forum.
Restricted Countries
Before proceeding with the details of the BC.Game evaluation, it's crucial to note that individuals residing in certain countries are not permitted to use this platform. These countries include:
Aruba
Curaçao
Costa Rica
Saint Martin (French part)
China
North Korea
Taiwan
Isle of Man
Hong Kong S.A.R., China
Turkey
Singapore
Japan
Lithuania
Casino Features
BC.Game boasts a diverse array of 1,500 games, which includes slot games, live casino offerings, and proprietary BC.Game originals like Crash, Dice, Plinko, Limbo, Baccarat, and Blackjack. With such an expansive selection, there's a game to match every player's preference. The game offerings include:
Slots (1,350 games)
Live Casino (128 games)
BC originals (18 games)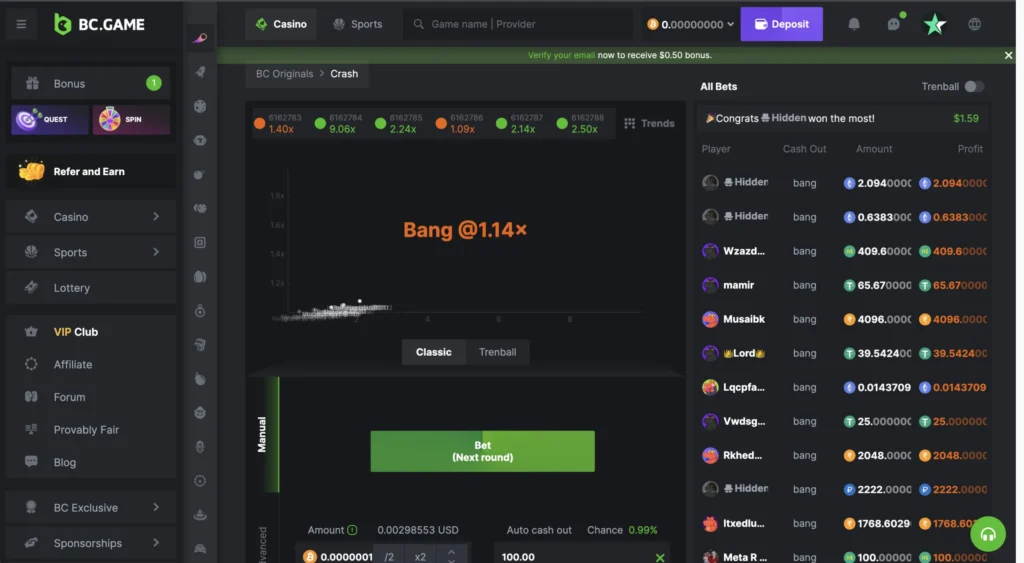 The 128 live casino games are offered through third-party providers, including renowned names such as Evolution Gaming and TV Bet. However, viewing games or playing with JB coin is not possible. To enjoy these games, players need to have cryptocurrency in their wallets, so it's important to set up an account and make a deposit first.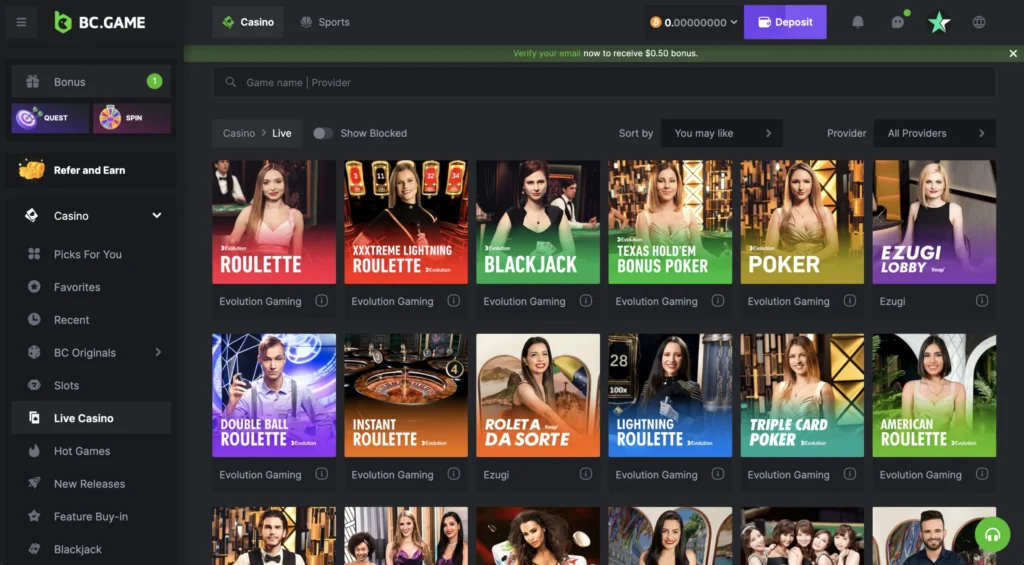 Sportsbook Features
Currently, BC.Game does not offer a sportsbook feature. However, if there are any updates in this regard, this information will be updated here.
Poker Options
BC.Game doesn't provide a dedicated poker option, other than video poker. If there are any future updates regarding poker games, this section will be updated accordingly.
Player Experience
Platform Features and Functionality
BC.Game supports two unique digital currencies, JB coin and BCD, a stablecoin linked to the value of 1 USD. JB coin is specific to BC.Game and allows users to experiment with the platform's games. However, users cannot deposit, withdraw, or exchange JB for other cryptocurrencies, nor can it be used in third-party slots or live games. However, at VIP level 22, JB can help enhance rakeback and reduce withdrawal fees.
BC.Game's platform includes a VIP leveling system, with each 1 USD/Euro bet earning 1 EXP point. Advancing through the levels rewards players with coins or treasure chests, with a total of 8,577,000 EXP needed to reach level 69.
There's also the option to upgrade to SVIP for additional benefits such as daily free coins, complimentary luxury trips, access to the annual SVIP party, and more. Being an SVIP also unlocks additional level-up bonuses.
Another feature offered by BC.Game is Vault Pro, a savings account that accrues 5% interest. Users can deposit their funds and withdraw them at any time, making it a useful option during gambling breaks.
BC.Game ensures provably fair games, facilitating a reliable gambling environment. The methods for validating fairness through cryptographic hashing can be found in their help center. The platform is based on an Ethereum smart contract, with every transaction verifiable on Etherscan. Therefore, the site's code is open-source.
Design and Appearance
BC.Game displays the house edge for each game, providing a useful indication of your winning odds. With a house edge of 0.48%, Blackjack offers the best odds.
BC.Game also provides a mobile version of their site, allowing for gaming on the go. It was found to be as navigable as the desktop version, with vibrant colors and fun gameplay, which contributes to a delightful gaming experience.
Registration Process
You can register an account with your email and password or use Google, Facebook, Telegram, MetaMask, or WalletConnect. I found that logging in with MetaMask is hassle-free and provides many options for smooth integration.
Welcome Bonus
Occasionally, BC.Game provides a welcome bonus. It's recommended to regularly check the site, especially if you're contemplating depositing funds.
Promotions
BC.Game frequently runs special promotions. A lucky spin game, for instance, appears as soon as you access the website. Prizes go up to 5 BTC, equivalent to 146,960 USD/Euro at the time of drafting this. Each spin resulted in a 10,000 JB win, along with a daily bonus of 164 JB. JB is a coin specifically designed for BC.Game. Daily tasks also offer rewards in BCD, the site's stablecoin. Typical tasks might include placing a bet of 1 USD/Euro or more, enabling 2FA, verifying your email, and uploading a profile picture.
Three other daily events worth noting are: Roll Competition, Where is Coco?, and Rain.
Roll Competition involves rolling a random three-digit number, where the highest scores win a bonus.
Every six hours, Coco the dinosaur (or possibly a crocodile?) sporadically appears on the screen. Catching Coco earns a bonus!
Additionally, every six hours, six chatters are randomly chosen to receive a bonus. More chat activity increases the chance of winning, encouraging social interaction amongst players!
The platform also provides bonus codes, known as "shit codes", that reward players with gifts. Keep an eye on the game's forum, chat room, and social media for these codes!
Customer Service
You can easily access customer support by clicking on 'live support' under the 'profile' tab. When I tested their responsiveness about a JB coin exchange query, they responded within a minute. An additional help center equipped with a FAQ segment and another support contact point are also available.
You can contact the support team online 24/7. They also provide several email addresses and a Telegram link for communication. Furthermore, a help/feedback section on the game's forum provides an avenue to submit reviews, suggestions, or feedback.
Payments
BC.Game accepts a multitude of cryptocurrencies and even offers a swapping service for altcoins that are not listed.
Deposits
Deposits into BC.Game accounts can only be made using cryptocurrencies.
The cryptos accepted are:
BTC, ETH, BNB, XRP, DOGE, USDT, DOT, BCH, LTC, BCD, TRX, USD Coin, EOS, DAI, XMR, BSV, WBTC, DASH, BAT, LINK, XLM, AAVE, YFI, UNI, AMPL, SHIB, SUN, AMP, TRTL, AXS, BAN, KSM, CRO, SUNOLD, SUSHI, SNX, MANA, ENJ, CRV, JST, BTT, CAKE, TWT, VNDC, VSYS, EURS, AVC, NBX, JB, SATS, SOL, BUSD, MATIC, WAVES, AVAX, DCR, TUSD, FTM, LUNA, ETC, APE, ADA, PAR, FLOOR, FLOKI, DOG, SQUID, GODS, KUMA, ELON, GM, BIT, YGG, HEX, DEAD, WG0, JBX, RVN, NEAR, SAND, BCL, BCT, ONE, Harmony, GALA, PEOPLE, TOMO, ZIL, WCK.
Moreover, depositing various other altcoins is possible, with the funds being converted into DOGE, ETH, or BTC. However, users must be aware of the associated network fee and exchange fee.
Withdrawals
The cryptocurrencies available for withdrawal include:
BTC, ETH, BNB, XRP, DOGE, USDT, DOT, BCH, LTC, TRX, USD Coin, EOS, DAI, LINK, XLM, AAVE, YFI, UNI, AMPL, SHIB, SUN, AMP, TRTL, AXS, BAN, SUNOLD, BTT, JB, ADA, BCL, BCT, BUSD, DCR, DEAD, DOG, ELON, ETC, FLOKI, FLOOR, FTM, GALA, GM, GODS, HEX, KUMA, LUNA, MATIC, NEAR, ONE, PAR, PEOPLE, RVN, SAND, SOL, SQUID, TOMO, TUSD, WAVES, WCK, YGG, ZIL, GB, NFT.
Withdrawal Limits
The withdrawal limits depend on the specific cryptocurrency you want to withdraw. The website doesn't provide further details on this.
Withdrawal Speed
Withdrawals typically take between 5 to 10 minutes due to the need for transaction confirmation on the blockchain. This is a standard duration for most cryptocurrency casinos.
We hope you enjoyed our honest review of BC.Game!
BC.Game Ranking
BC.Game is the world's leading crypto casino which offers the widest variety of cryptocurrencies as well as in house and popular software provider games.
Reputation
Casino Features
Player Experience
Promotions
Customer Service
Payments
PROS
Supports 60+ cryptocurrencies
Withdrawals and deposits are instant
It provides a wide selection of games
Offers provably fair games
Has implemented transparency through Ethereum Smart Contracts
CONS
Only allows crypto withdrawals
Email accounts can't be updated; a new account has to be created